A Gentleman in Moscow by Amor Towles, USA, 2016
A Gentleman in Moscow by Amor Towles, USA, 2016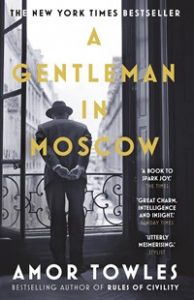 If you only have time to read one book this month or even this year, consider reading A Gentleman in Moscow. This would have to be one of the most beautiful, most perfect books, I have read.
The book revolves around Count Alexander Ilyich Rostov, recipient of the Order of Saint Andrew, member of the Jockey Club, Master of the Hunt, who, in 1922, after appearing before the Emergency Committee of the People's Commissariat for Internal Affairs, is placed in house arrest in the Hotel Metropol in Moscow. As an aristocrat he could have been placed against a wall and shot, but he was saved from this fairly drastic experience because of a poem supposedly written by himself.
Forced by the circumstances thrust upon him, Alexander reassesses his former possessions and the extent to which they have ruled his life, and how they have allowed 'memories to invest them with greater and greater importance'. In his small attic room in the hotel, he brings to mind all those things that he no longer owns, and he comes to the firm decision that, after all, 'a thing is just a thing'.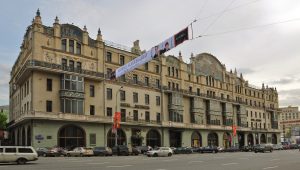 For the thirty-plus years that Alexander remains in the Metropol he creates a new life for himself where, 'by the smallest of (his) actions (he attempts to) restore some sense of order to the world'. Once he realizes that life as he has always known it has divested itself of all unnecessary trappings and has shrunk to the bare essentials, he makes new friends, establishes new routines, becomes head waiter, and occasionally reminisces over what has been, while remaining completely positive. The Count's close relationship with three of the hotel staff, an actress, and the child, Nina, form the hub around which Towles brilliantly weaves his story.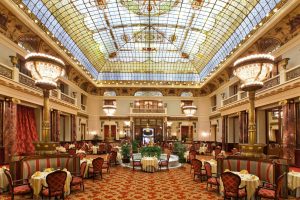 The writing is captivating, and the humour is delightful. Studded with philosophical and literary anecdotes and ideas, A Gentleman in Moscow is at times a banquet, at other times a simple meal taken with valued friends, but at all times it is both engrossing and satisfying.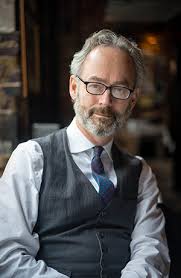 Covering a plethora of emotions and human situations, this is a book that you will not want to end, but when it finally does end you will, hopefully, look at the world around you in a new, more joyful, manner.
The image of the Metropol is from skyscrapercity.com
The image of the Metropol interior is from printerest
The image of Amor Towles is from amortowles.com