THE RÚIN by Dervla McTiernan, Australia, 2018
THE RÚIN by Dervla McTiernan, Australia, 2018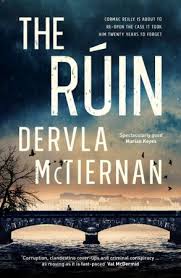 This novel ticks most of the boxes within the crime genre. Apart from dead bodies, there are suspects, convoluted background stories, some love interest and a detective – Cormac Reilly – around whom the story evolves. It is easy to read, with sufficient twists and turns to keep the reader interested from the beginning to the end. It is also the first book in what is most likely to be a series built around the character of Cormac Reilly, which may be good news for readers who enjoy this kind of unchallenging writing.
Rúin can mean a ruin or it can also mean a secret, and this word sums up the entire story. Split into two sections by a period of twenty years, the plot is quite well planned and managed, but at times I wondered if McTiernan may have been trying just a little too hard, tackling murder, drugs, jealousy, rape, child abuse, domestic violence, abuse within the Catholic church, corrupt police, abortion, suicide… all within the space of 375 pages. A few of the side stories – most of them connected in some way to the main story – do not completely ring true and, as a result, create unnecessary confusion.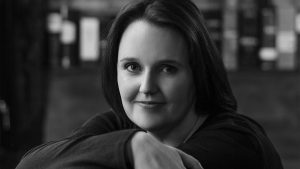 The reviews on the inside cover are all glowing, but (obviously in the minority) I found the writing somewhat mediocre, and I was unable to connect with any of the many characters. Also, I wondered why a book, written, published and printed in Australia, has to use American English: 'gotten'* for got or received, 'fit' for fitted, pounds instead of kilos. . .
But as a somewhat different kind of detective novel, The Rúin will definitely appeal to many readers.
The photo of Dervla McTiernan is from Perth Festival
* Although gotten dates back to Middle English, it has not been used in British English for a couple of centuries – if not longer – but is common usage in North American English. OED