The 2½ Pillars of Wisdom by Alexander McCall Smith, UK, 2004
The 2½ Pillars of Wisdom by Alexander McCall Smith, UK, 2004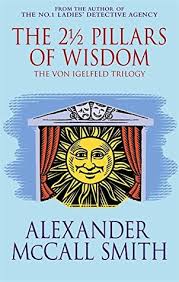 In keeping with all of McCall Smith's books The 2½ Pillars of Wisdom is a delight to read. It is witty, informative and extremely observant. Divided into three sections, The 2½ Pillars of Wisdom is about three German professors at the university of Regensburg, north of Munich: Professor Dr Moritz-Maria von Igelfeld, Professor Dr Detlev Amadeus Unterholzer and Professor Dr Dr Florianus Prinzel. Although Professor von Igelfeld is the main character, there would have been no story without the very important input of the other two.
The first section deals, among other things, with Professor von Igelfeld's illustrious publication, Portugese Irregular Verbs, of which the author is extremely proud even if sales of the book only number a couple of hundred. The second section is motivated by sausage dogs in general and by Dr Unterholzer's sausage dog in particular, while the third section sees Professor von Igelfeld unwittingly elevated to the rank of President of Colombia.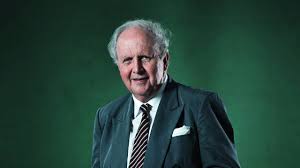 Although many of the events in the book are extreme, bordering on the absurd, they are always anchored to reality, and it is this fact that gives the book its special fascination. Do read it, you will not be disappointed.
Photo of Alexander McCall Smith from theaustralian.com.au