Britt-Marie var här (Britt-Marie Was Here) by Fredrik Backman, Sweden, 2014
Britt-Marie var här (Britt-Marie Was Here) by Fredrik Backman, Sweden, 2014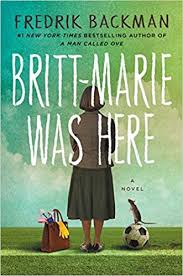 Many of you will recognize Fredrik Backman as the author of En man som heter Ove (A Man called Ove) and Min mormor hälsar och säger förlåt (My Grandmother Asked Me to Tell You She's Sorry). We first meet Britt-Marie and her husband, Kent, in My Grandmother Asked Me to Tell You She's Sorry. She is fastidious when it comes to cleaning and social niceties, but she is diminished by everyone around her. In Britt-Marie Was Here, Britt-Marie takes the enormous step of leaving her husband when she finally faces up to the fact that he has been having an affair. Once she leaves the security of the marital home it is obvious that she is ill-equipped to cope with the outside world and the people in it.
She manages to get employment at a recreational centre in Borg, a run-down village with a road cutting through it in two directions. Many of the residents have left or are in the process of selling up; there is nothing to do in the village, at the centre of which is the recreational centre and the pizzeria, run by Someone, an alcoholic in a wheelchair, and between these two buildings a group of unruly teenagers play football. Over the course of the book Britt-Marie's life becomes entwined with that of the pizzeria owner; Bank, an almost blind woman who was once a football star; the local policeman, Sven; and the children themselves. On the edge of the story is Kent.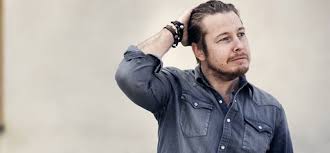 While the reader gradually becomes aware of Britt-Marie's past and understands why she is the way she is, Britt-Marie, surrounded by people who actually care about her, begins to take hesitant steps into a more independent and fulfilling life.
Britt-Marie's fastidiousness and her rigid approach to everything creates many humorous situations, but alongside the humour there is a deep understanding of the human situation. In spite of the positives – and I did enjoy the book – I felt at times that the pace was just a little too slow and that some of the situations (either funny or sad) were possibly just a little too drawn out.
However, that said, the book is definitely worth reading, and the ending should please everyone.
The photo of Fredrik Backman is from boktugg.se