A Street Cat Named Bob by James Bowen, UK, 2012
A Street Cat Named Bob by James Bowen, UK, 2012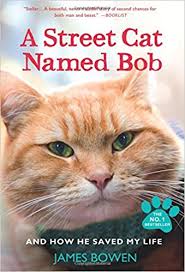 This is a heart-warming, true story about Bob, a ginger cat, and his soul mate, James Bowen. After a difficult growing-up period split between two countries – England and Australia – James returns to England in the hope of getting his life together. This, however, does not happen, and he slides into heroin addiction and finally ends up living on the street. When Bob enters his life he is on a methadone programme and has moved into sheltered accommodation, having decided to pull himself up from the bottom.
Bob appears from nowhere, and once James realizes that Bob, like himself, is on the street, he invites him to move in. Bob needs a lot of TLC – he is starving, his coat is in poor condition, he has an ulcer on one leg. . . James nurses him back to health and the two form a very strong bond. When James heads off to busk at Covent Garden, Bob decides to go with him. Bob's presence draws people and James soon finds that he is making more money than he ever has before.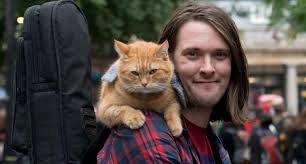 Image of James and Bob from Tser.com
The book, covering a period of two years, 2007-2009, is easily read, and it is difficult not to engage with the everyday crises that wrap themselves around the two friends. As James wrote at the end of the book: 'Everyone deserves a friend like Bob. I have been very fortunate indeed to have found one.'
Definitely a book about hope, friendship and loyalty.
The book has been made into a film, and here you can watch a short YouTube video