All that Remains by Patricia Cornwell, UK, 1992
All that Remains by Patricia Cornwell, UK, 1992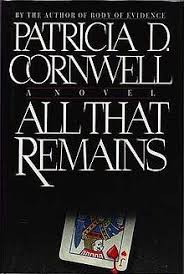 All that Remains is filled with many unexplained murders, intrigue and suspense, which is usually the right combination for easy reading when entertainment, and not intellectual analysis, is the main focus.
Over a period of several years a number of couples are found dead in out-of-the-way locations, their cars abandoned and no clues as to the perpetrator and/or why he/she would have done such a thing. But then the daughter of a very powerful woman goes missing, and rumours begin to circulate that government agencies could be involved.
At times the storyline demands a significant leap of imagination, and at times real life is left cowering on the edges of the pages, but this is, after all, part of the deal (that is to say, entertainment over and beyond everything else).
Patricia Cornwell has written many crime dramas where forensic science plays a major role, and while the details can be somewhat gory the main thrust of the story is usually logically, if somewhat imaginatively, presented.