Water Lines II

This exhibition by ART–IN–SYNC was held in 2016 at CStudios in Newcastle, NSW. Click on the individual names to see works by the other exhibitors: Annette Abolins, Amanda Donohue, Helen Mortimer and Signe Eklund. All my works are 30x30 cm and are oil on canvas. Several of them incorporate printing techniques as well as painting.
  Ocean I         Ocean II        Rocks and Water I
Rocks and Water II     Water 1         Water 2        Water 3   

Water Lines I

This exhibition by ART–IN–SYNC was on show at the Studio Gallery, Gosford Regional Gallery, December 2015, and it examined water not only as a dimension but also from the point of view of its crucial situation in today's world. Water Lines displayed a number of different techniques (painting, printmaking, drawing and textiles)and was intended to both provoke thought and inspire.

Here you can access photos of my work. There is also information for anyone wishing to purchase any of the artworks.

1,000 Small Boxes Exhibition

The 8th Small Boxes Exhibition, which is held every two years at the Kankaku Museum in Japan, was on display from the 19th November 2016 until the 5th March 2017. The Kankaku Museum has a gallery with 1,000 pullout drawers, and in each drawer there is a small artwork. The idea behind the Small Boxes Exhibitions is communication through art.

Below there is an image of the exhibition room in the Kankaku Museum; my artwork for 2016⁄2017, Is the Way In the Only Way Out? (20 x 25 cm); and the artwork in its special drawer.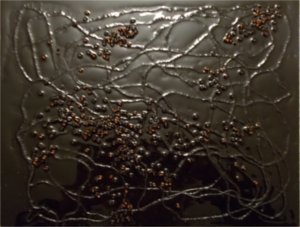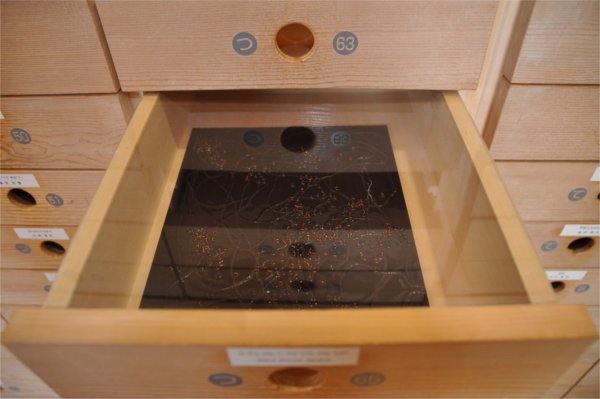 Ebb and Flow

Ebb and Flow was an exhibition at The Studio Gallery, Gosford Regional Gallery, NSW, Australia, from 15 November until 24 November 2013. The works in the exhibition investigated the ebb and flow of both Nature and life itself.

Annette Abolins, Helen Mortimer, Amanda Donohue and Diane Eklund–Āboliņš, have worked together on several exhibitions, including Music From a Farther Room, Being Human and both Water Lines exhibitions.

IMAGES FROM THE EXHIBITION



Study 1        Study 2        Study 3        Study 4        Study 5        Study 6

These six studies are all oil on canvas, and they each measure 30x30 cm. In everything around us – water, grass, bark, trees, rocks – there is a definite pattern of movement, and it is this pattern, or flow, that I have attempted to capture in these works.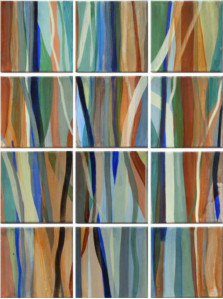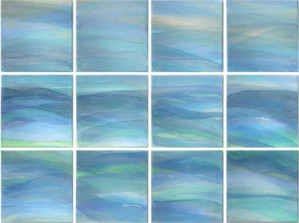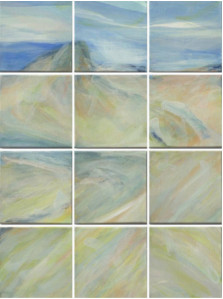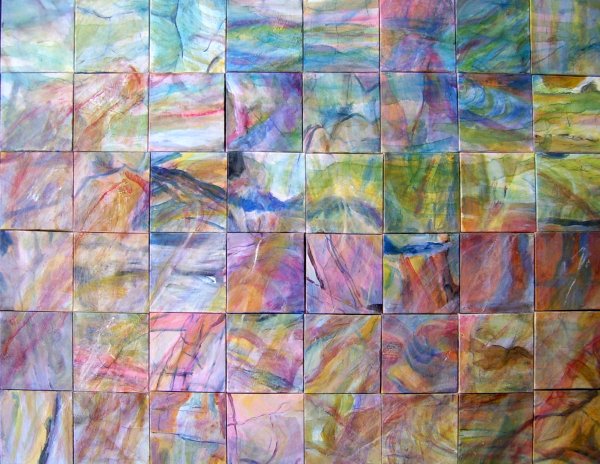 Trees, 84.5x63 cm       Water, 63x84.5 cm          Dunes, 84.5x63 cm     From Avoca to Norah Head 90x120 cm

Being Human

This exhibition was all about being human. The artworks look at the concept of being human mainly from the perspective of mood, which is an intrinsic part of every human being. My works were tied up with the Four Humours – melancholic, phlegmatic, choleric and sanguine, but they also investigated physical characteristics, the four elements and even different astrological interpretations. The works formed part of an exhibition shown at the John Paynter Gallery, the Lock–Up Cultural Centre, Newcastle between the 18th May and the 3rd June 2012.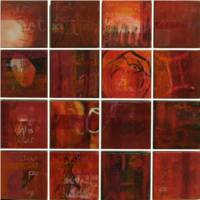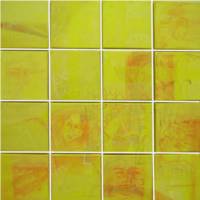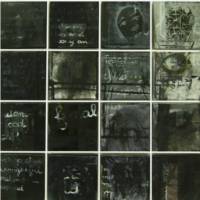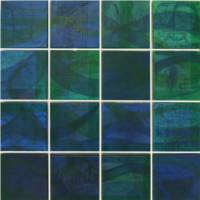 Sanguine         Choleric         Melancholy            Phlegmatic
Being Human





Coastline

On the central coast of eastern Australia, beaches, headlands and rocky outcrops attempt to mark a line between land and water, borrowing colours from both. In many places, the colours blend with each other until the land and the water become one entity. Inspiration for the painting At the Edge of the Sea (in five panels) came from the colour changes in the rocks by the sea, brought about by the changing tides.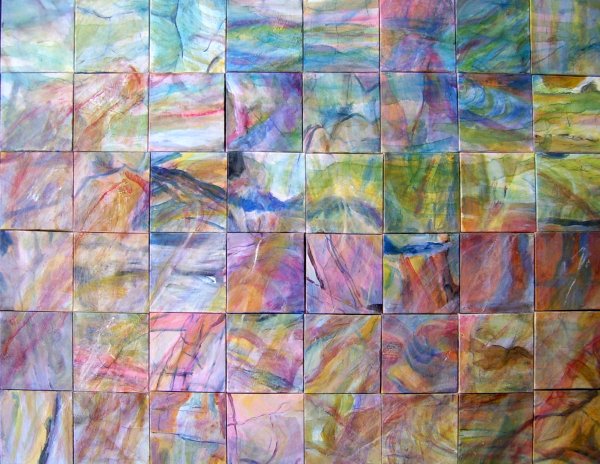 From Avoca to Norah Head 90x120 cm         At the Edge of the Sea, oil on canvas, 5x (100x40cm), 2008

Music from a Farther Room

These works, looking at age and ageing, were part of an exhibition at Gosford Regional Gallery, NSW, Australia, in 2009. Time is usually perceived as being linear, but there is another dimension to Time where everything takes place simultaneously, and it is this idea of each age existing in every age which is the thread connecting all the works in the exhibition. Life and ageing can be seen as a circle or as a woven cloth, where past and present experiences interlock and, hopefully, result in some understanding of life itself. At the same time, even physical attributes, such as the face or the hands, become emotional 'roadmaps', silently divulging secrets from both the past and the present. You can read more about the exhibition at ART–IN–SYNC

MY WORKS FROM THE EXHIBITION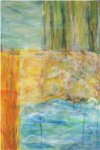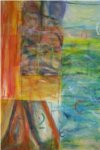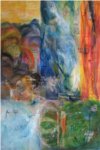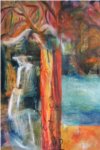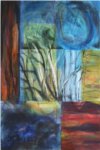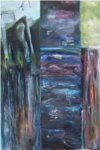 The Constants of Ageing, 6x(150x100), oil on board.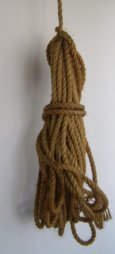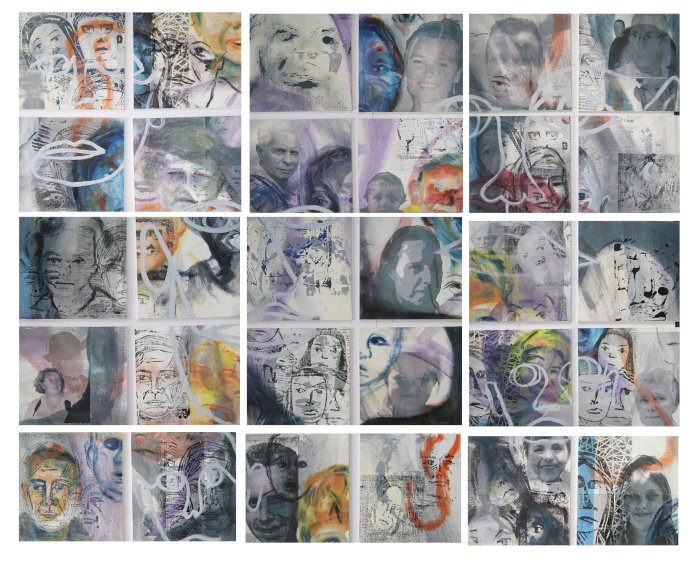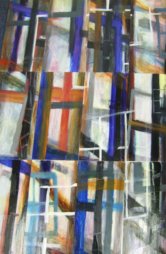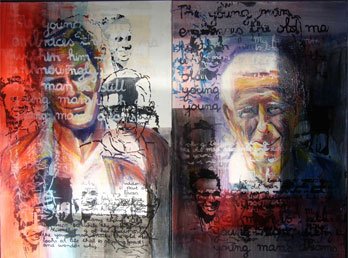 Synvinklar
Synvinklar I–VI, 62x79cm. Oil on board. 2007

Any image has as many synvinklar or perspectives as there are people looking at it, and these perspectives multiply each time the same person looks at the same image. By 'image' I mean everything around us. After all, everything is an image made up of an endless number of smaller images, and each of these individual images can be broken down into countless perspectives, depending on those doing the perceiving. For these works, I concentrated on things around me: water, rocks, sky, wind turbines... and I collected many different images of the same thing from many different angles or perspectives. These smaller images can then be collected together to create new perspectives and, of course, new images.

Doors and Windows



These paintings were part of a solo exhibition at the Council Chambers Building, Lidköping, Sweden. 17–30 March 2007. A window or door can frame our perception; it can also prevent us from seeing something that is actually present. The closed window or door may well limit our field of perception, but it cannot stop the reality of that which is beyond our perception. All works measure 40.5x30cm (or 30x40.5cm). Some are painted with oil on canvas, while a number are linoleum prints on paper.

Youth and Age

During 2006, I worked on a number of works which investigated the concepts of youth and age and the fact that the essential life–force of a person does not change. Outwardly, a person may appear to change, but, inwardly, a person at 80 is the same person as he⁄she was at 30. Ignoring the impact of maturity and experience on any person, he⁄she thinks and acts more or less the same, irrespective of age. The life force of the person does not change, and it is this that should always be acknowledged, not the signs of superficial ageing.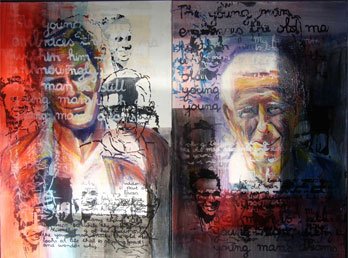 Youth is Age is Youth 1, 92x121 cm, oil & printmaking, 2006

I feel that the superficiality of age covers the reality of age – or the reality of the person concerned – an idea similar to my way of working with many images and many layers. All the works in this series have been built up with layers of painting and printmaking, and each individual image is, in effect, part of the final artwork, even though these images can no longer be discerned as individual images. This, I feel, is the same situation with youth, age and ageing.

Water

The works in this series (not all of them shown here) were split between two separate exhibitions – Watt Space, Newcastle, NSW, 2005 and Galleri Lilla Alexander, Mariehamn, Åland, 2006. 1.38 billion cubic kilometres (71%) of our planet is covered by water. It is found in lakes, streams, creeks, puddles, rivers, oceans and vast expanses of ice and snow. We can all visualize it, in some form; we can experience it in so many different ways, and we are completely dependent on it for our survival. It dominates everything, both as a presence and as a need. It fascinates us, and it is beautiful. This is what these two exhibitions were all about – the beauty and the fascination of water.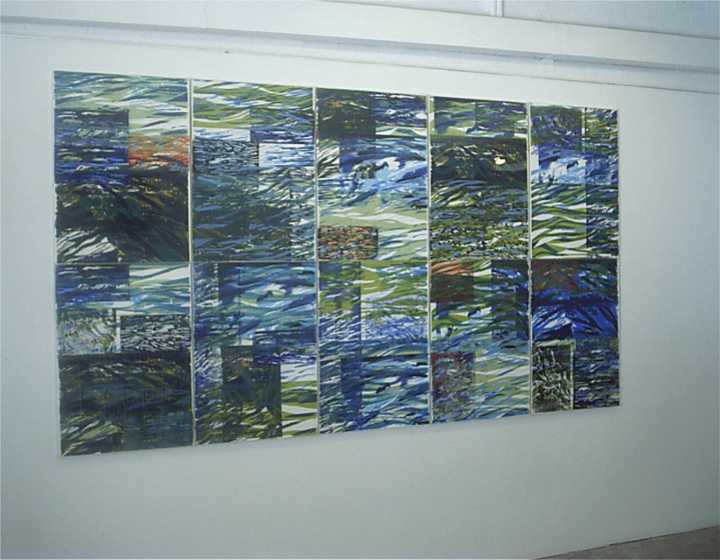 The work above: "Beneath the Surface", measures 170x185cm and is made up of many different printmaking methods as are the smaller works below, each measuring 28.5x38.5. Click on any small image to see the same image but larger.

From left to right: "Sol och vatten" (Sun and Water); "Dansande vatten" (Dancing Water); "Strand och vatten 3" (Beach and Water); "Sol lek" (Sun Play); "Vattenpölar" (Light Dancing); "Pools of Water"

Fires

These two works were painted in 2004, after a summer of bushfires. They each measure 39x123cm and have been painted with acrylic and oil on board.
Seeking Asylum

Below is one work from the series, "Seeking Asylum". At the time (2003), there was a lot in the media here in Australia about refugees being denied asylum. The situation, more than ten years on, has not changed. The problem, of course, is political, and many people have been led to believe that the word refugee is to be equated with danger. It is a sad reflection on today's politicians and where we are headed as a society. Each panel consists of many layers, with figurative layers (printmaking) forming the background.

Seeking Asylum 1, 122x490cm, oil and printmaking on board (10 separate panels) 2003

Hume and Hovell

The Hume and Hovell paintings together comprise one work. There are 6 panels, each 79x58cm, and they are a mixture of oil on board, drawing and collage. The work was completed in 2002 and was inspired by the Hume and Hovell Walk (Yass to Albury, NSW, Australia) approximately 450 kms, which my husband and I did in 2002. The artwork is now owned by the National Trust of Australia.

We did the Walk in May just as the trees were beginning to change colour. There had been an ongoing drought for several years, which meant that there was very little water in the lakes and dams. On the other hand, there were lots of kangaroos everywhere; most probably looking for water.

When we had reached the Snowy Mountains, it began to snow. Imagine what it was like, waking up in a tent to see the whole world covered in white! Fortunately the snow did not last – it was too early in the season – and it very quickly turned to slush and rain.

Each of the six paintings comprises a section of the Walk, incorporating images from that section: trees, rocks, man–made objects... The images are layered over each other, using paint and collage, in much the same way as the facets of any experience become layered and, eventually, meld into one abstract image that reminds us of that particular experience.

Identity

The individual versus the crowd. Individuals are units within larger units (as small images are units within larger images), and the configuration of these units is forever changing.
In the Crowd, mixed media, 123x160cm, 2001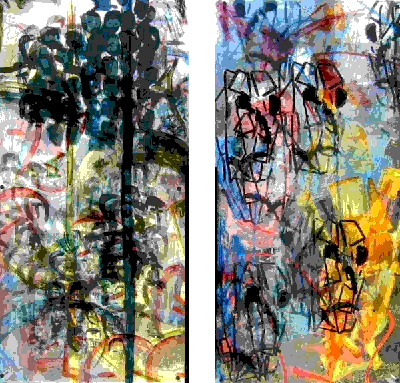 Closed–In, oil & screenprinting on perspex, 2x(128x63cm), 2001



Identity, IV, 61x245cm, oil & acrylic on tile & board, 2003

Existentials

In this work, 204x272 cm, I investigated the way individuals become part of the pattern of their environment. The work was purchased by ArtsNorth and is now owned by Hornsby TAFE, NSW, Australia.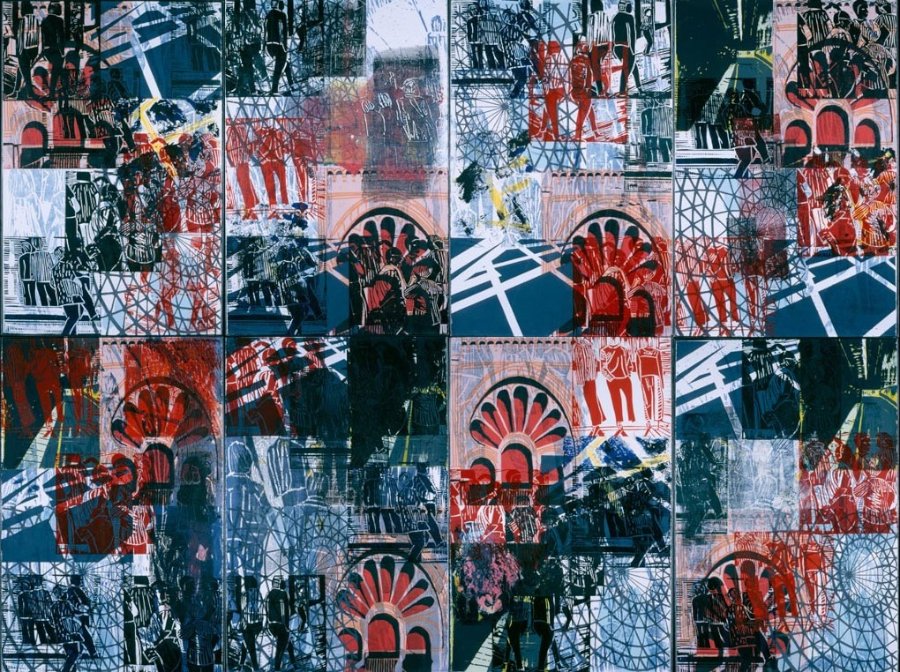 Existentialism is part of that philosophy concerned with the meaning of human existence. It explores the way in which we relate to the world, and it is about engagement – not detached observation. It deals with both man's freedom and his 'aloneness'. Nietzsche described an aspect of this freedom when he wrote, "No one can construct for you the bridge upon which precisely you must cross the stream of life; no one but you yourself alone."

The essence of existentialist thought can be found in Simone de Beauvoir's comment, "I am, I exist, here and now, I am myself."